She was created by Allyne[1], then redrawn by ChiNoMiko. She appears first in Episode 5 and next in Episode 7, during which she is invited to Melody's sleepover.
About
Capucine doesn't talk much to your Candy, so not much is known about her. She seems to want to be in Amber's group of friends, though she still doesn't appear to be accepted fully by her. She acts as Amber's informant and shows distaste toward your Candy. Otherwise, Capucine tends to be quiet and keep to herself, almost as if she's a social outcast or socially awkward.
Due to being invited to Melody's sleepover, Capucine must be accepted by other students, maybe even more so than Amber does. 
In Episode 29, she mentions she has scoliosis. 
History
As of now, not much is known about Capucine's past. Due to her mysterious nature, she talks little to your Candy about herself and no one else seems to mention anything about her.
Appearance
Capucine has big, bright green eyes, somewhat pale skin, and caramel-colored hair styled to be in side-swept bangs. Her eyes actually seem to look away from your Candy, as if she is plotting something. Her bangs and tips are dyed a light pink color that acts as a subtle accent. On her head, she has a hot pink, plastic headband with frilly material on the left side. She usually wears a puffy, light pink dress with a thin, purple ribbon tied above her waist area. She has a blue cropped jacket with a small, almost-covered pink and gold logo. Around her long neck, she wears a pinkish-white pearl necklace. She has good posture and stands up straight. Her arms are behind her back and she looks like she's about to curtsy. 

In Episode 7, Capucine is invited to Melody's sleepover, hinting that unlike Amber and her crew, Capucine is accepted by the group of girls - especially Melody. At the sleepover, Capucine wears the same necklace, and a pink gown decorated with amber stars and amber tracing. Her nightcap matches her gown, but she still seems to be wearing her headband underneath. The pajamas consists of a sweater with long sleeves and a cap, both pink and printed with yellow stars. The sweater is short and goes down to her mid-thigh. The nightgown is adorned with yellow ruffles at the collar as well as on the sleeves and bottom. The cap has a yellow band at the bottom and a yellow star hanging on the very end of the night cap. It's unsure what material the star is made out of, but due to it's shininess, it could be made from plastic or even metal.
In Episode 27, she is seen in a white lab coat, like everyone else, buttoned right to the collarbone, however, she does not wear safety goggles.
Personality
Not much is known about Capucine due to her mysterious nature and because she doesn't talk much to your Candy. Capucine comes off as being withdrawn and speaks little, though there seems to be a lot going on in her mind. She is secretive and, due to Amber's influence, seems to think little of your Candy.
Capucine acts as Amber 's informant and is sneaky, yet calm. She absorbs information and reiterates it back to Amber. As time passes, your Candy will be cautious around her and won't trust her, especially when she lets out her trademark sly giggle.
Capucine acts little like what her original creator had intended for her.
Relationships
Friends and Enemies
Although not always walking along with Amber and her gang, Capucine is her friend and admirer. It is generally Capucine who tells Amber of occurrences in the school and of any gossip. However, she ends up letting out some secrets of Amber herself, like when she says that Castiel and her had something in the past. Even though Capucine is Amber's informant, she still doesn't hang out with Amber's group, though as of now the reason is unclear. Capucine claims she admires Amber for not being ordinary and indifferent in episode 32.
Capucine seems to not address Li, even though she's in Amber's group of friends. It is not clear whether or not Capucine isn't accepted in the group, which is why her interactions with Li and Charlotte are so few. Li doesn't seem to notice Capucine, either. In the second Amour Sucré art book, in the character relationship flowchart, it appears that Capucine and Li are relatively close.
Just like Li, Charlotte also doesn't seem to really get noticed by Capucine even though she is one of Amber's main friends. According to the flowchart in the second Amour Sucre art book, Capucine and Charlotte don't get along very well. In newer episodes, Charlotte can be seen making mean remarks towards Capucine, and mocks her for dating Samuel along with Amber and Li.
In the actual game, Capucine has absolutely no contact with Jade nor does she ever mention him. Her original creator, Allyne, intended for Capucine to have a crush on Jade, but this is something ChiNoMiko seems to have left out of the game as of now.
Capucine seems to be quite fond of her boyfriend Samuel, given that they speak lovingly to one another both in person and on the phone. However, Capucine seems quite embarrassed to be seen with him given his "unconventional" appearance and possibly young age. Samuel does not attend Sweet Amoris.
Family

Capucine's parents. Capucine was ashamed to perform in a play in front of them because she felt they would laugh at her later. When her parents are doing the scavenger hunt, they seems to defend her immediately when your Candy gets irritated with her, so they seem to be defensive of their daughter.
Manga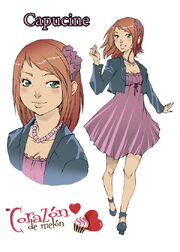 As of now, Capucine hasn't made many appearances in the manga. Her first appearance is when Lynn and Nathaniel are running away from Amber and her gang. Capucine cuts the duo off in the middle of the hallway, with her hands on her hips looking rather annoyed. Lynn and Nathaniel ignore her, however, and flee past her in order to get away from an angry Amber. This leaves Capucine looking a little worried as both groups fly past her and, because she's not seen again, she was left behind.
Capucine can be seen again in a large group shot of the class waiting to board the bus for the camping trip. She can be seen looking a little clueless behind Amber and her gang. She looks to be the only one out of Amber's group to not look angry or bored. 
Sprites
Illustrations
Trivia
Names

Her original French name is Capucine
Her name in the Spanish version is Karla.
Contest Entry
Capucine was one of the five winners of the contest "Create a character - EXTRA - until 31 march 2011" on Amour Sucré. By winning the contest, she became a new side character to the My Candy Love world and was redrawn by ChiNoMiko. Allyne created Capucine and even after being redrawn, very little changed about her appearance, but her personality seems different than what her creator had intended.
Prénom: Capucine
Age: 16 ans
Elle est nouvelle au lycée venant d'une famille bourgeoise. Elle aime la mode, le shopping et aime s'habiller de manière chic et distingué. Elle aime la musique et la danse classique. Pourtant elle est très timide et mystérieuse. Elle tente en vain de se faire des amies. Elle est influencé par le groupe d'Ambre. Elle hésite encore à choisir son camp. Elle est intrigué par les garçons du lycée, mais semble apprécier particulièrement Jade qu'il ne lui est pas indifférent...
Name: Capucine
Age: 16
She is new to the school and is from a bourgeois family. She loves fashion, shopping and loves to dress very chic and elegant. She loves music and classical dance. Yet, she is very shy and mysterious. She tries in vain to make friends. She is influenced by the Amber Group. She is still reluctant to choose sides. She is intrigued by high school boys, but seems particularly appreciative of Jade, though he doesn't notice...
References